Capitalise on a company or organisation anniversary by including a special publication in your celebration plans. Designed to suit the individual needs of each client, the publication can be FREE or partly funded by advertising and will compliment the product/service that you provide.
• Unique marketing material
• Valuable sales aid
• Souvenir issue
• Event programme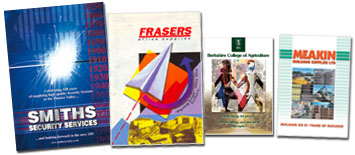 Precisely targeted publications that provide unique distribution and long life advertising opportunities. FAMILY INFORMATION GUIDE - Containing a wealth of information on childcare and activities the guide helps parents to make the right decisions for their children. 50-PLUS - The guide to lifestyle, health and wealth for the mature person produced in association with Age Concern.